May 16, 2018, 6:03 AM ET
The Note: Democratic victories stoke enthusiasm, but tough challenges lie ahead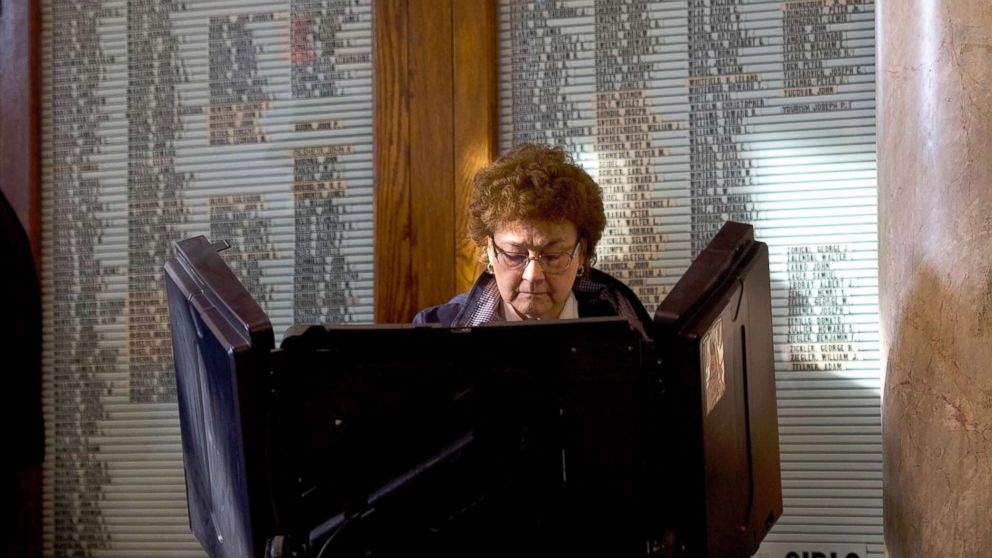 The TAKE with Rick Klein
Interested in
The Note?
Add The Note as an interest to stay up to date on the latest The Note news, video, and analysis from ABC News.
Pennsylvania would seem to have it all for Democrats, and Tuesday's primaries will stoke talk of waves – both the blue and pink varieties.
A state that narrowly and surprisingly supported President Donald Trump has a brand-new and Democrat-friendly House map, record GOP retirements, and an all-male congressional delegation – though almost certainly not for much longer.
The Keystone State delivered victories for at least seven women in Democratic primaries, and came through decently well for progressives overall.
Democrats' slate of House candidates out of Pennsylvania will include prized recruits like Chrissy Houlahan, an Air Force veteran with business and nonprofit experience; Susan Wild, an EMILY's List-backed candidate who defeated a fellow Democrat who opposes abortion rights and had been cozying up to Trump; and Mary Gay Scanlon, an attorney who won a surprisingly easy victory in a 10-way primary for an open seat with a Democratic edge.
Democrats may look back at some missed opportunities – including with some promising female recruits who fell short – in Pennsylvania.
The primaries again revealed strong cross-pressures inside the still-fractious Democratic Party. A state that broke Democrats' heart in 2016 may yet do it all over again this year.
The RUNDOWN with MaryAlice Parks
One of those Democratic women on the ballot last night, " Navy reserve officer Rachel Reddick, spoke to supporters as the first results started to come in.
The numbers didn't look good for her, but Reddick said it was ok.
They had "already accomplished" what they got in the race to do, she said, to help people "carry hope" in their hearts. "Hope that they can make the country a better place."
Voters across the state expressed a wide-range of hopes for Washington and their communities: better jobs, better pay, better education, better character displayed by political leaders.
In explaining why she thought her campaign — though she lost in the end – was worthwhile, Reddick talk about the heightened level of engagement she saw over the last year among voters of all stripes. She spoke about new grassroots activity.
Miles from Reddick's district other Democratic voters specifically also said that people were paying attention in a whole new way, caring about local races and these midterms like never before.
The TIP with Lissette Rodriguez
Democratic candidate for Florida governor Gwen Graham is facing inter-party criticism after backtracking on comments saying she wouldn't be opposed to considering a bi-partisan ticket. The former congresswoman tweeted she would choose a Democrat who mirrors her progressive values.
"For lieutenant governor, I will choose a Democrat who reflects my progressive values: a woman's right to choose, supporting public schools, raising the minimum wage, fighting climate change, expanding health care with a public option, and passing bold gun safety legislation," Graham wrote.
She followed up that Tweet with an attack of her Democratic and Republican opponents and said that while she and the person that was being floated around as a possible Republican lieutenant governor choice disagree on a number of issues, she "like many progressives…respect his bravery taking on" President Trump, "more than even some Democrats in the race for governor have been willing to do."
The name being floated around for a possible Republican lieutenant governor choice is a former Rep. David Jolly, who served with Graham in House between 2015 and 2016. Graham mentioned him by name last week when asked on a podcast in Miami if she would consider a split ticket.
Jolly is seen as an ally by some Democrats, he appears on cable television often to critique President Trump. However, his views on abortion rights tend to align with his registered party, leading some progressive Democrats to question if it would lead Graham to lose support from organizations like Emily's List and saying a Democrat-Republican ticket would not bode well in a Democratic primary.
WHAT YOU NEED TO KNOW TODAY
President Trump will meet the president of the Republic of Uzbekistan at 11:45 a.m. at the White House.
Senate Intelligence Committee holds closed-door hearing on January 2017 Intel Community Assessment on Russian Activities and Intentions in Recent US Elections at 9:30 a.m.
Environmental Protection Agency Chief Scott Pruitt testifies before the Senate appropriations subcommittee at 9:30 a.m. on Capitol Hill.
Senate Judiciary hears from Christopher Wylie, the whistleblower of Cambridge Facebook-Analytica data scandal at 10 a.m.
Former Secretary of State Rex Tillerson gives remarks at the graduation exercises for the Virginia Military Institute Class of 2018 at 11 a.m. in Lexington, Va.
QUOTE OF THE DAY
"It's actually a remarkable and dubious distinction to be the largest state in the country to have no women representatives in government and I think that, I hope very much to be one of many people who break that trend." – Democratic candidate Chrissy Houlahan told ABC News' Stephanie Ramos before winning Pennsylvania's Sixth Congressional district's primary election on Tuesday.
NEED TO READ
Key test for 'pink wave' power in Tuesday's primaries. Tuesday night's primaries featured redrawn district maps, a spate of retirements, a surging "pink wave" of candidates seeking to make history, and colorful political storylines aplenty. (Halimah Abdullah, Erica Y King and John Verhovek) https://abcn.ws/2IlrGP0
In Pennsylvania primary, a test for 'pink wave' with record number of women running. There currently are no women representing Pennsylvania in Washington — and the state has never elected a female U.S. senator or governor — but there are more than 20 women across the state hoping Tuesday will kick off their chances to change that - a test of the so-called "pink wave." (Cheyenne Haslett) https://abcn.ws/2IKZyEm
Democratic and GOP senators warn Trump against lifting sanctions on Chinese company ZTE. Senators on both sides of the aisle are urging President Donald Trump not to go easy on Chinese telecom company ZTE after friendly tweets over the past few days suggested he's willing to lift sanctions on the firm. (Ali Rogen) https://abcn.ws/2rHLYrI
In shift, US backs Israel fully after global outcry over Gaza violence: ANALYSIS. One day after the U.S. opened its new embassy in Jerusalem and dozens of Palestinian protesters were killed in clashes with Israeli forces in Gaza, it's clear that the Trump administration stands squarely behind Israel, blaming Hamas for the violence even as other countries, including the United Kingdom, demand Israel show restraint and stop using live gunfire. (Conor Finnegan) https://abcn.ws/2IEHzPV
Judge throws out Manafort's latest attempt to block Mueller. Paul Manafort's latest request to have one of special counsel Robert Mueller's indictments against him thrown out was shot down Tuesday when a federal judge in Washington rejected the former Trump campaign chairman's claim that the special counsel's investigative mandate is too broad. (Lucien Bruggeman) https://abcn.ws/2GkR2GE
Trump puts $10 million price tag on Russia probe. Wedged in the middle of a Tuesday morning tweet by President Donald Trump bashing the news media and boasting about his poll numbers was a complaint about the "$10,000,000 Russia Witch Hunt." (Jack Date) https://abcn.ws/2jXFvEs
After 16 months, Pompeo ends Tillerson's hiring freeze at State Dept. Pompeo announced he was lifting the freeze for all foreign service and civil service positions – and authorizing the department to hire at "current funding levels." (Conor Finnegan) https://abcn.ws/2GlitjA
Former Qatari diplomat dismisses allegations from porn star's lawyer. A former Qatari diplomat has confirmed that he visited Trump Tower with other Qatari officials during the presidential transition, but he dismissed allegations by adult-film star Stormy Daniels' lawyer that he met with Lt. Gen. Michael Flynn and tried to bribe other insiders for access. (James Gordon Meek, Ali Dukakis, James Hill and Dylan Goetz) https://abcn.ws/2rJsqCl
Disgraced former congressman Blake Farenthold won't repay $84K sexual harassment settlement. Former Rep. Blake Farenthold, the disgraced Texas Republican who resigned last month in the aftermath of a sexual harassment settlement, has secured his next paid gig – as a government lobbyist. (John Parkinson) https://abcn.ws/2rLrPjl
Business Insider analyzes Democrat's potential use of subpoena power if they retake the House this fall. https://read.bi/2rK5McV
The New York Times reports on Trump Organization's Indonesian partner striking a deal with a Chinese state-owned construction company that falls under President Xi Jinping's high-priority initiative amid increasingly strained trade relations between the US and China. https://nyti.ms/2IlvnUT
The Note is a daily ABC News feature that highlights the key political moments of the day ahead. Please check back tomorrow for the latest.
News - The Note: Democratic victories stoke enthusiasm, but tough challenges lie ahead